Large open pores on the skin can look very unsightly, due to which you may feel a little uncomfortable about your skin. The good news is that there are many things you can do to fill your pores and reduce their sizes, such as regular skin care, laser treatments, or home remedies. Here are the effective and best ways to close pores permanently.
Is it possible to close the pores of the skin?
Fortunately, there are many things you can do to unclog pores and reduce their size, such as regular skin care, laser treatment, or home remedies. using treatment.
Home Remedies for Open Pores to close pores permanently
When you apply turmeric mixed with gram flour on your face, with the help of this pack, large and open pores will start reducing. Mix two spoons of gram flour and one spoon of curd with one spoon of turmeric powder. Now apply this pack to your face and leave it for 20 minutes. When it dries properly, wash it with lukewarm water.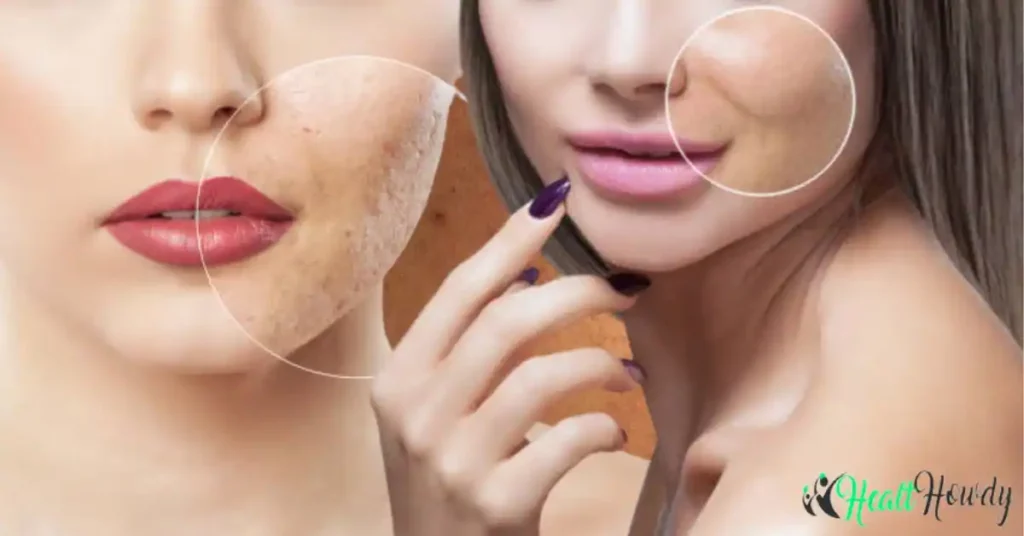 1. Ice
Rubbing an ice cube over the pores on the skin for about 10 to 15 seconds will temporarily tighten your skin, fill the pores, and make the pores look smaller.
2. Baking soda
Prepare a paste by mixing a tablespoon of baking soda and a little water.
Apply this paste where you have a problem and let it dry for 5 to 10 minutes before rinsing it off with lukewarm water.
This will help reduce the appearance of pores and fight acne.
3. Egg white mask
Egg white masks are thought to be good for tightening pores and making them appear smaller.
Mix 2 raw egg whites with 1/4 cup fresh orange juice. Apply this mask to the face and leave it on for 15 minutes before rinsing it off with lukewarm water.
Orange juice also helps in improving your complexion.
Mix oats in egg white and apply twice a week on open pores area. Wash it off when it dries. It will act as a scrub and also tighten the pores. Mix dried and powdered orange or lemon peels in a facial scrub or mask and apply on the face.
Does petroleum jelly clog pores?
The use of petroleum jelly can clog pores in many people. Therefore it is important to clean the skin thoroughly before using it. Also, if you are already troubled by the problem of clogged pores, then consult a doctor before using it.
Many medicinal properties are found in petroleum jelly. It moisturizes the skin and retains moisture. Massaging the face with petroleum jelly before sleeping at night does not make the skin dry and brings shine to the face. Pores can be closed using petroleum jelly. Petroleum jelly is used to soften wood and leather products.
Take skin care regularly to close pores permanently
1. Keep your face clean
When the pores get covered with dust, dirt and oil, then they look bigger and clearer. Therefore, it is important that you keep your face clean to reduce the amount of dust, dirt and oil that accumulates on your skin.
Wash your face thoroughly once in the morning and once in the evening. Washing more than this can dry out your skin, irritate it, and make your pores look bigger.
Wash your face with a gentle cleanser (without sulfates) and use lukewarm water instead of very hot water. Dry the face by gently patting (do not rub) with a clean and soft towel.
2. Exfoliate the skin
Exfoliating the skin helps to remove the dead skin, which usually clogs the pores along with the dust, dirt and oil present on the skin.
The face should be exfoliated twice a week using a good facial scrub. Make sure that the scrub you are using is not too rough or abrasive on the skin, otherwise, it may damage your skin.
Alternatively, you can use a damp, clean cloth to gently exfoliate your face, or make a natural facial scrub with ingredients from your kitchen.
If you're able, consider splurging with a motorized brush, such as the Clarisonic, that exfoliates and exfoliates the skin, and it's twice as fast as your hands. Gently cleanses your face.
3. Use a moisturizer that prevents acne
Moisturizers are very important for healthy skin. They prevent the skin from drying out, which is a common cause of large pores.
When buying a moisturizer, pay attention to the "'noncomedogenic" label, which means it won't clog your pores.
If you have sensitive skin, you should stay away from colored or scented moisturizers, which can cause irritation.
4. Use steam treatment on the face to close pores permanently
Steam treatment is the best way to reduce the appearance of pores. This is because the hot steam opens the pores and flushes out any dirt or oil deposits.
To prepare the steam treatment, boil some water, and place it in a heat-proof bowl. If your skin is prone to acne, then add two or four drops of tea tree oil to it.
Lie your face on the bowl and put a towel over your head. Allow the steam to sit on your face for about ten minutes.
When you are done, wash your face with cold water. Doing this will remove all the dirt from your face and help in filling your pores.
5. Use a clay mask
The clay mask will reduce the size of your pores by taking out the accumulated dirt, dead skin and oil from your pores.
Buy a clay mask from your local drug or beauty supply store or you can prepare a mask at home by mixing one spoon of Multani mitti, one spoon of oatmeal and one spoon of water.
Wash your face thoroughly then apply this clay mask and leave it on for 15 minutes till the clay dries up completely. Your face should feel tight to the inside of the cover.
Rinse off the clay with lukewarm water, then pat your face dry. Repeat this once a week.
6. Apply sunscreen every day
Broad-spectrum sunscreen protects your skin from dehydration. It also prevents the formation of excess sebum and maintains moisture in your skin. This does not make the pores bigger. If you have oily skin, choose a mineral sunscreen for your pores.
Many people don't realize it, but the UV rays from the sun damage the skin's supporting collagen. Without collagen, our pores can clog, and become more visible.
You can prevent this from happening by wearing sunscreen every day or applying it everyday. You can also buy a daily use moisturizer with Sun Protection Factor (SPF), then it won't be too difficult.
When you spend a lot of time outdoors, you should also wear a hat and sunglasses, which will protect against the damaging rays of the sun.
7. Do not pull or press on blackheads and pimples
Removing blackheads and pimples by pressing or pulling would be a very wasteful idea. If you do this the wrong way, you damage the pores and make them even bigger and will not close pores permanently.
By pulling at blackheads, you exchange bacteria with your fingers and fingernails, turning your blackheads into nasty pimples.
If blackheads must be removed, use a sterilized comedone extractor, and you can buy this online or at a drugstore.
8. Take care of yourself
Take care of your health. It plays an important role in making your skin look beautiful. Drink plenty of water, balance your diet and don't forget to workout daily. This flushes out the toxins from your body and makes the skin look smooth and glowing.
Drink at least 8 glasses of water throughout the day.
Eliminate processed foods and high-oil, spicy things from your diet and instead eat more fruits, green vegetables and salads.
In many cases, the skin type is genetic, which you get from your parents. If so, don't try to change it too much.
Using skin treatments
1. Use products containing retinol
Retinol is a derivative of vitamin A, which is used in many anti-aging and acne products.
Retinol stimulates cell growth, which helps to unclog pores and make them appear smaller.
Retinol is only available on prescription, so you should consult with your doctor or dermatologist before taking this treatment.
What happens when you apply retinol?
Retinol cream is a form of vitamin A that is used in the treatment of acne which appears as spots or pimples on your face, chest or back. It also helps in softening the facial skin and reducing wrinkles.
2. Get laser treatment to close pores permanently
Laser treatment provides a stable solution to your clogged pores.
Non-ablative laser treatments such as Medlite, Genesis and Fraxel increase the production of collagen, which tightens pores and makes them appear smaller.
The biggest obstacle is the cost of laser treatment. You can get around 30 to 35 thousand rupees every time in about two to three times.
3. Get advice for Accutane
Accutane is prescribed for severe acne.
This is the only treatment that physically shrinks pores instead of making them appear smaller.
However, Accutane is a very strong drug that can cause severe drying of the skin. And when the treatment is over, the pores return to their shape.
Hiding your pores
1. Do make-up
Instead of minimizing your pores, you can cover them with concealer, foundation, and powder. Although this is a very temporary method, but according to the need, you can make your skin look beautiful by adopting it.
Buy a concealer and foundation that matches your skin tone, this will make your skin look natural. Use mattifying makeup if you have oily skin and moisturizing makeup if you have dry skin.
Apply makeup lightly and evenly using a sponge or brush. Don't apply too much in one spot, this will expose more of the area you're trying to hide. Wash your brushes or sponges from time to time to avoid the generation of bacteria.
Don't forget to clean off your makeup thoroughly at night. Leaving it like this will clog your pores and make them look even more useless.
2. Use a skin primer
Applying primer under makeup is the best way to make your skin look flawless.
A good primer (especially one containing silicone) will temporarily unclog your pores.
It gives a flat surface to the makeup, making your pores almost invisible.
3. Use blotting paper
Using blotting papers, you can absorb excess oil and make your skin look greasy without making your face look dry.
You can find blotting papers at your local drug store or pharmacy, or online.
Advice to close pores permanently
You can buy special tissue wipes to absorb oil and shrink pores. They are very cheap and are easily available.
Use a toner. After applying the cleanser, the pores get tightened by toning the skin. Make sure you use toners made for oily skin, as these contain ingredients that help tighten the skin.
Don't pull anything off your face! It will just create holes that will get bigger and soon it will become your habit!
Warning
Avoid getting any product in your eyes. If it gets in your eyes, immediately wash it off thoroughly with clean water.
Hi, My name is Helena and I'm a founder of HealtHowdy.com. Over the years I've helped hundreds of people to live a healthy and fit life. Nowadays, Fitness is everything, if you want to Look Attractive and Get Updated, you can Join Me.